First downs to Touchdowns
Make SportWise Your First Pick!
 
 
 

Tired of wasting time endlessly copying & pasting into spreadsheets?

Create a DataSpace to easily join data together and see changes to your team's stats easily. 

Save time by exporting your DataSpace to Excel or any other application.

SportWise provides you with the tools to make sense of all your fantasy sport data. It's a no-code, endlessly customizable platform that will change the way you interact with your fantasy data.

 
No code, customizable DataSpaces

Build your own data models

Easy import & export of data
Endless data combinations

Import from Yahoo! Fantasy Leagues

Responsive customer service
What Makes SportWise Different?
NFL stats automatically updated daily. Build your own advanced stats using Custom Calculated Columns​

 

 
 

Passing, Receiving, Rushing Kick, Punt Yards & Touchdowns 
Passing, Rushing, Two Point Conversion & Field Goal Attempts 
Interceptions, Fumbles Lost & Recovered 
Blocked Kicks & Punts, IN20 & Penalties               
Sacks, Points, Points Against D/St, Safeties, Penalties 
Player Age, Weight, Height, Position, Position Category 
Player Stats, Games Played , Injuries & Injury Returns 
Team Schedules, Home & Away, Roof & Surface 
DK Fantasy Points and more
+100 more unique NFL Stats!

 

Choose Your Data
Connect your NFL Yahoo! Fantasy League or view the and import your roster for Fantasy insights.

Choose from daily injury updates, schedules, and depth charts.



Create DataSpaces
Easily create data relationships that used to require complex formulas or advanced database knowledge.

Dive deep into your data with endlessly customizable DataSpaces. SportWise makes it easy to analyze your roster and make data driven decisions. Create Views to zero in on what you want to know, without learning to code.

Get Automatic Updates
Get daily insights on your Yahoo! Fantasy NFL player statistics, injuries, and matchups.

Build calculations to score your players and create a customized weighting model.

Identify gaps in your current roster and find undervalued players to inform your trades.
SportWise Automatically Updates Daily NFL Fantasy Team Stats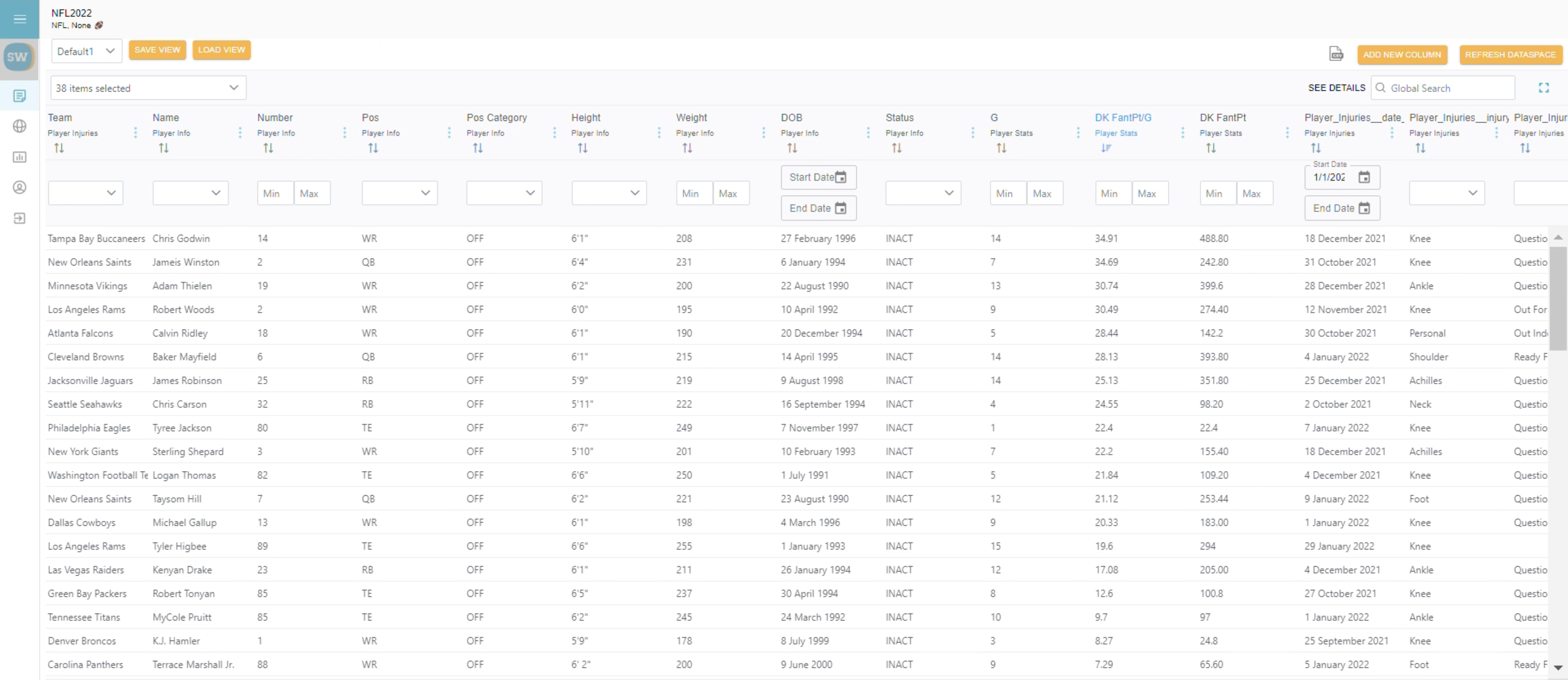 I'm looking forward to using this for my NFL draft

Kyle
SportWise has some good features, and is really useful in my player analysis

Brandon